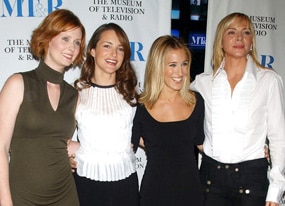 Strap on your Manolos girls. The fab foursome is back! Well, not quite yet. But it has been officially announced that the fab four from Sex and the City will be doing a film soon. Hopefully shooting starts as soon as next month! All four fab gals will be back, as well as Chris Noth playing Mr. Big.
Can things possibly get better for Sarah Jessica Parker? She's just celebrated her 10th anniversary with hubby, Matthew Broderick, although they've been together for 15. Their adorable little creation, James, is now four. She has her own clothing line. And now she's got a high-paying gig being Carrie Bradshaw again.
Oh what I wouldn't give for five minutes in Carrie's closet. Can you imagine thumbing through rows and rows of those fabulous clothes? Trying on those magnificent shoes? Borderline orgasmic.
I can't wait to find out if Charlotte and Harry get their baby. If Samantha and Smith really make it – because let's face it – that guy is the only real piece of eye candy they have on there besides Choo and Manolo.
Let's hope the script is fantastic because recreating the dynamics and placing them into a 2 hour film is not going to be an easy task!