Boutique closing sale means you get the best deals!!!  Great items for this transitional time in our weather and wardrobe are vests!  Denim vests, faux fur vests and such.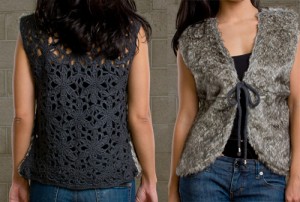 I have my hands on this lovely vest and a FRACTION of RETAIL!  It's light-weight thanks to a beautiful crocheted back.    Friendly to our furry friends as it's faux fur on front.  A simple rope tie which can be left undone and the vest open.
Warm weather: Cute over a cami or tank top.  Great with a t-shirt – short sleeve for now, long for later.
When it's the dead of winter: put on a turtle neck and you end up with about 9 months of wear with this fab piece.  Dress it up with a pencil skirt and that turtle neck for an ooh-la-la office look!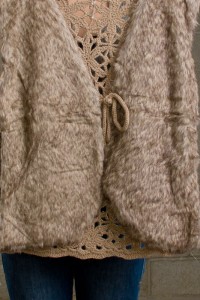 Regular retail $85, one size, gray or light brown/beige.  I have a limited number I can sell for  just $35!!  This is not in stores.  You can pay online or, if local to me, we can possibly work out a meet up.  $5 to ship in continental U.S.
email me now to reserve yours jennifer@suburbancatwalk.com
Made of acrylic and wool.  22″ long.  Gray or beige tone.  One size fits most.  My best guess is up to about a 10-12 if not very busty.  First come first serve!
You may also like: Haute Shopping online!