Every body cannot wear every type of summer dress.  Finding the right dress for your shape is essential.  Once you find it you will love shopping a lot more.  Summer school dress session is in.  I checked out Macy's online simple because it's easy and they have a huge variety for my teachings…
Some examples: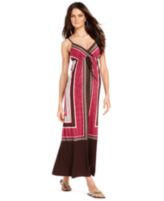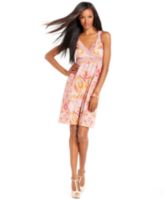 I think it's obvious which is more flattering, yes?  An empire waist is not for everyone.   You may think it hides that left-over baby belly, when in fact it is possibly making it worse.  Add a badly placed print like the one of the left and suddenly you look wider than you are.  The dress on the left is to heavy on the bottom – fabric and print…too much.  If it had been a simple floral like the dress on the right, it may have looked way better on this model.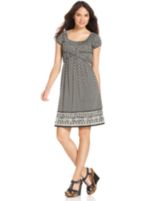 For me a dress with a wide trim decoration like this photo is a no-no. I do not want the eye going there.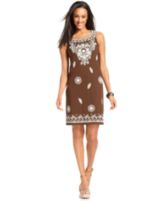 Something a bit more tailored and balanced like the dress on the right may be a better option for those over the age of 15.  Also note how the upside down triangular pattern draws the eye down, in a way creating an hourglass shape for the dress.  This dress could look good on a variety of sizes and shapes because if you have no waist, this is likely to give you the appearance of one.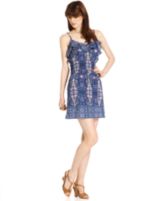 This dress is another with some flexibility. With a small chest it gives the appearance of having more.  Large chested gals beware of the ruffle.  There is a point where it's too much…like if you have ruffles in your face….you need non ruffles here 😉
The pattern is not in-your-face and the color is good on many.  The smocked waist enhances the waist line and I love the length and the neutral shoes.  Honestly though…I think over 30 is time to start thinking about less (or no) ruffles.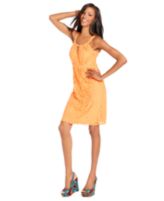 I adore this dress! However…this is a tough color for pale complexions, so beware and try on first. I love halter style tops. The keyhole cut out is totally sexy but you will need to pad the area if you are small chested or the keyhole becomes a peep hole.
The lace top layer is what does it for me on this dress. It's divine.
I could go on forever but I would much rather answer your questions personally.  Feel free to send an email to me and describe your shape, or even send a photo.  I'll give you some ideas for styles that may further enhance the hottie that you are!
Rule of thumb for me….empire waist is everywhere but it's not really flattering for many.  Stick with clothes that give you a waist or the appearance of one.  Waste not your waist!
jennifer@suburbancatwalk.com
Shop for Women's Apparel on Sale at macys.com
(affiliate link)