There are sooo many things I love right now.  With winter comes luxe coats, boots and sweaters.  But since I've been kicking back for a while and not earning my fair share I have been put on the cheap list.  I see a few others here I recognize, I won't name names.  With spouses out of work, pay being cut and those darn kids who won't stop growing out of their clothes…I get it.  What are we girls to do?  Abstinence doesn't make the heart grow fonder.  Just makes me want that shearling coat that much more!
I'll be honest…I totally suck and finding a cheaper version of anything I love.  Because I know why it's cheaper and it makes me sad.  It's made with cheap products.  Made poorly. Maybe made by a little kid in a factory somewhere.  But I'll try.  Because I have cheap friends and my hubby says I should join their little club 😉
Want:

Moss colored shearling coat at JCrew.com, $1800. Yes, ridiculous for those of us in the Midwest who can pay less than that on a mortgage for a decent size house with a finished basement, big yard, etc. For my NYC friends who get a walk up studio apt for that price…hell yeah, take the coat.
Getting closer: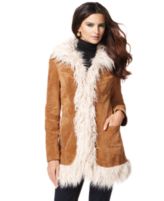 This I feel like I'm getting a good deal and still a fun warm coat. Was $299.50, now $199.99 at Macys.com. I love the bit of vintage feel I'm getting from this fuzzy number. Genuine leather with faux fur trim by INC.
And cheap:

This is the best I can do with my limited time. I do want a lighter colored coat in my wardrobe.  Was $148, now $89.90 at Nordstrom.com. Faux shearling by Kenneth Cole.  A bit on the dull side but looks warm and we could jazz it up a bit to make it work.  Show me your fab finds here or post on Facebook.
My vote goes with the leather coat at Macys because I cannot resist fuzziness.  Show me your faves!