Spring weather in the Midwest is a crazy collision of temperatures creating weather temperaments you don't want to mess with. But you still have to go to work, the grocery store, the school assembly. What to wear when the weather is a bear?

A skirt that won't flash the masses is a must. This fabulously stylish A-line skirt should do the trick. Strips of tonal trim zigzag diagonally across the front of the skirt cast in a clean, dark wash – Nordstrom.com $98.
Great skirt for the work day, casual day or night time soiree.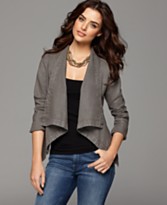 A great jacket (or three) in your closet is a must. Have one in a simple design, neutral color and light weight that will carry you through the seasons. This draped linen jacket at Macys.com is a super option (and currently on sale) for your closet conundrum.



Don't forget a stylish umbrella to keep you locks dry! Great selection by Totes, around $15.