The runways for spring 2011 sported a variety of crop pants.  Mostly it seemed they were either just below the knee or just above the ankle.  Not mid calf like in the past.
We went hunting for a few examples to show you.
Cozy, easy fit, knit, crop pants at EllaMoss.com.  These are actually swatpants and I'm a big fan of the saying "sweatpants are for sweating in".  But these offer a middle ground for those of you resistant to putting effort in to just run to the grocery store.  Belted at the waist for a bit of added fashion.  Pants are a blend of viscose linen, cotton and spandex.  At Ella Moss, $128
The Trouve' crop pant at Nordstrom makes our list because of it's relaxed, boyfriend styling. This pair of straight-leg chinos can we worn straight or cuffed. $78 at Nordstrom.com.  Casual and comfortable.  Wear with a t-shirt.  Dress up with a spring weight cardigan or shrug.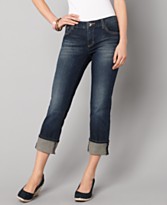 This cropped denim pant in by Tommy HIlfiger caught my eye. At $59.50 the price tag catches the eye as well. Not bad for a designer label, good fitting pant.
Keep in mind the width of the cuff my friends. A wider cuff may draw the eye in a way that isn't flattering. I love the wide cuff look, but on the majority of us a more thin cuff is better. Don't forget to keep an eye on your proportion. Try not to cut yourself in half with your clothes.
Not to forget my curvy girlfriends, here is a plus size version also at Macy's, and per macys.com they are on sale for just $27.99!