While March seems to not have received the memo that it's springtime, I'm still gearing up for the new season and its trends with the fabulous spring color palettes.
The In Bloom creamy cheek duo by Smashbox in perfect spring colors, Blushing and Peony. Dab a bit on your cheeks (maybe even try a smudge on your lips) and go.
Anastasia has a great selection of eye color palettes. These clinically and consumer tested eye shadows provide a sheer wash of gorgeous, natural color. The long-wearing formula is free of fragrances and artificial dyes and contains both the Youthful Synergy™ Complex and a Balkan Botanical® Infusion. The Youthful Synergy™ Complex has Brown Algae, Diamond Core Powder, and powerful antioxidants that lift, hydrate and revitalize the appearance of skin. The Balkan Botanical® Infusion soothes, softens, and hydrates the skin.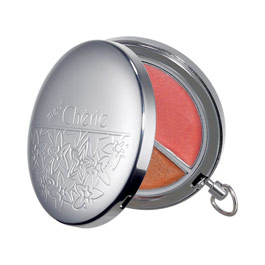 Jewel Lip Palette by L'Occitane.
This lip palette contains 2 sparkling beige and pink lip glosses which leave a subtle shimmer on your lips. Its sheer texture, enriched with softening orange blossom extract, suits all skin tones and can be used alone or over a gloss or a lipstick to create a customized effect! Its case makes it perfect to carry it in your purse. Dermatologically tested.
For an easy start with your spring beauty palette shop the Spring 2011 Color Collections at Beauty.com!
Brought to you by our sponsors: Sephora.com and Beauty.com