A special Saturday post about Red White and Boom – Mix 93.3's fabulous summer concert in Kansas City. (
RWB FAQ's
)
It has come to my attention that several fashionistas are at a loss for what to wear to the concert today. Never fear…your KC Fashionista is here for you.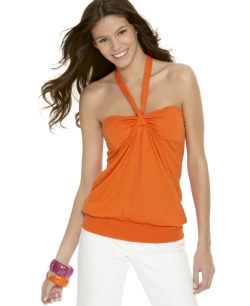 Halter tops
are "in" and sold just about everywhere. I found a fun, cool top at Macys.com and it's on sale for $25.11. We have several Macy's locations here in the KC metro and they open at 10am. Plenty of time to grab this top (in Jr's section) and get to the concert.
White shorts are so hot right now, but probably not a good idea for a 9 hour concert.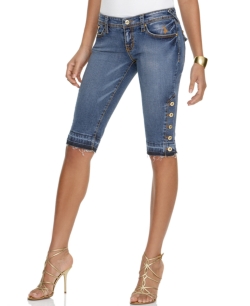 I'm opting for my denim shorts and of course will be wearing my Haute Market t-shirt, which will be on sale at the event for just $10 each! If we find you wearing a Haute Market shirt or carrying one of our bags around…you just might score a set of tickets to the next Haute Market event!
Back to your fashion hunt:
Please…can you ditch the flip flops for a comfortable, fashionable pair of open-toe beauties?
When you visit the Haute Market booth to meet Drew of Drew6, do you really want to be wearing a sloppy outfit and flips? NO!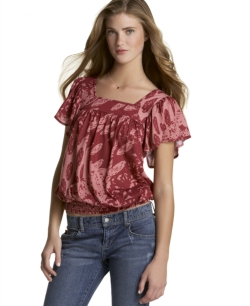 Another cute top that will be breezy and cool, Miss Chievous Printed Flutter-Sleeve Top. $21 at Macys.com and likely to be available in store.
Get shopping girls, then get your cutie booty to the concert at Sandstone. Make sure you visit the Haute Market booth, found near the main stage and across from the VIP area. We'll be featuring hair extensions by Lulu Salon for just $5, Haute Market event tickets, Haute Market t-shirts PLUS a visit from Drew and the guys who will be giving away several hundred of their new CD's and you can get a new Drew6 t-shirt for just $15!
The Haute booth is definitely going to be the hot-spot!