After a weekend of manual labor I am excited to get back to my world of fashion and girly goods. Macy's was having a sale (when are they not) so I was scanning the site and found some feminine frocks for my fashionistas. We're gearing up for our Sex and the City party and cannot be without a fabulous party dress!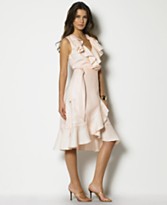 Feminine indeed. This beautiful wrap ruffle dress by Ralph Lauren is fantastic. Full of soft ruffles and a beautiful shape. The ruffles at the neck and bust are great if you are smaller chested. Gives the illusion of something more being there. $179 at Macy's. Pair it with a colorful pair of shoes or handbag for some WOW.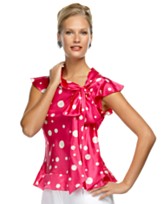 Need something for day that can transition to cocktail hour? The O Oscar, tie neck blouse, $109. Girly, sassy and very trendy. Keep everything else simple…the hair, the bottoms and the accessories, with a busy, bright top like this one.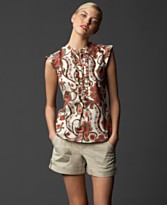 No work, just play? The sleeveless with ruffle trim, simple cotton top by Tommy Hilfiger, $59.50, is perfect for zipping around town in the mini van, taking kids to the zoo or even meeting friends for a casual lunch. Pair it with a nice pair of pants and it works for the 9-5 lady as well.
A ruffle for every lady today. I have to be exciting lady in outfit #3 today, if I actually get out of my pj's, that is. Zipping around in the mini-van today. Impressive, I know. At the very least I promise to be carrying a great handbag!
Shop Clearance at Macy's