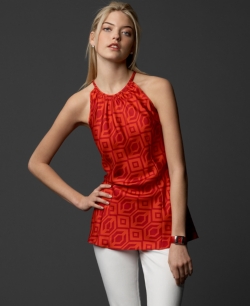 Looking for a little color this spring? It's everywhere and ripe for your picking. Get a bit bold with color this year. Make sure it's a good color for you, don't just buy it because "orange is in" for example. Just try to get something besides black.
I've rummaged the web this morning and picked a few bits to show you to help jump start your shopping.
Spice things up a bit with this flirty halter top in a fun geometric print. New from TOMMY HILFIGER, $79.50 at Macys.com .
Need just a slight bit of color to ease you into the color-mania? Let the flower-power flow over you. Smooth and soft tunic drapes you in a 60's style floral print. Peasant sleeves have elastic cuffs with velvet-trimmed single button closure. Scoopneck. $58 at Lucky Brand Jeans online.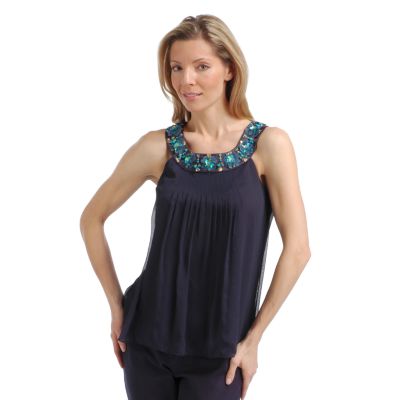 Looking for a bit of bling for your spring attire? Check out this top with a jewel-lined collar. Diaphanous elegance adds romantic style to any outfit. Henry New York Pleat & Bead Detail Sleeveless Top at ShopNBC.com for $79.99. Starting with a soft silk-like fabric that floats over your body, the scoop neck is sprinkled with beaded floral embellishments. This sparkling touch makes jewelry almost optional. The flattering silhouette is created with petite pleats front and back, for an airy gracefulness you'll adore.