Last night I finally watched the Project Runway Finale. Unfortunately I already knew who the winner was so it was not as exciting as it could have been. I won't spoil it if you haven't learned who the big winner is, but I will show you a few outfits I found recently online that reminded me of fashion week styles.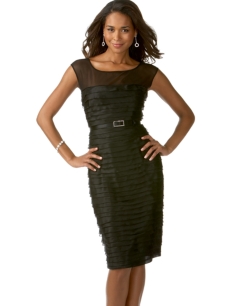 This dress struck me right away and gave me this blog idea. I reminded me so much of runway items and although it's black, it's still going to be on my shopping list if I can just find an occasion appropriate for such a beautiful piece.
Anne Klein Tiered Dress with Belt. This is when it's good to be in tiers! The little black dress, redefined with a sheer panel at the shoulders and rows and rows of flirty tiers. $218 at macys.com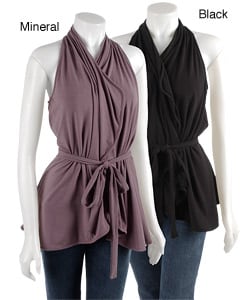 At Overstock.com I found this wrap-style vest that reminds me of the layers and draping for fall, but in a great Spring-like style. To The Max Draped Knit Vest with Belt. Be careful if you are a "hippy chick" because the shape toward the bottom of the shirt go outward and could make a wide hip area look bigger. Pair with some skinny jeans and that should help slim the look. Was $78, now just $43.99. New Customers – Save $10 off Purchases of $150 or more at Overstock.com. Expires 3.31.08 at 11:59pm MST

Enjoy your shopping. Check back each weekday for your dose of fashion and beauty tips!