Do you know what's really fashionable? Giving. Sometimes giving even when there isn't a lot to give means the most. The unselfish act of sharing what little you might have in order to brighten the day of another person.
Yesterday I was so excited to drop off goodie bags for the resident ladies at SafeHome. This is the second year I've done it and I know it makes some smiles happen.
Thanks to some shopping party left overs and huge product donations from Initial Design and jennyLou Boutique, I left 20 goodie bags packed with jewelry, body products, hand bags and more.
You can help SafeHome any time of year by donating products from their wish list.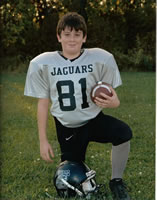 Another in need of some Christmas spirit is a local 13 yr. old boy named Cody English. Cody fought cancer once, successfully. But 3 months later he received devastating news. The cancer is back with a vengeance. Cody is fighting very hard but I'm sure every little bit helps. You can visit Cody's web site and send him a note, mail a card, or even a little gift.
There are loads of ways to give and help this season. You don't have to send a huge check to someone. A quick card in the mail to someone who needs a pick-me-up is generous!
Happy holidays everyone!