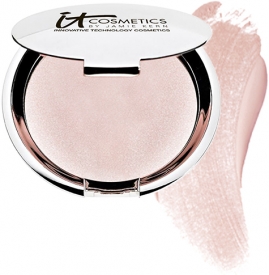 We're busy, we're tired, we're active, awesome women. But we don't always have that desirable lit-from-within glow. That is why they invented illuminator cream and I love the stuff! Combined with contouring and you won't believe the different it can make for your face.
it Cosmetics has a creme illuminator, Hello Light, that I love to use. I must disclose that I received it as a gift in a swag bag, but I wasn't asked to review it. But you MUST know about magical makeup! It comes in a great silver compact with a mirror so touching up throughout the day is a breeze. It's $24 so it's a reasonable price, in my opinion, because you use very little each time and it contains anti-aging and antioxident ingredients!
Follow the awesome directions and visual on the itCosmetics web site to get your glow on!