If you work outside the home it's probably just the weekends where you chill in your comfie clothes around the house. For those of us who work from home…every day tempts you to make it a slippers and PJs day. However…it's easy to step it up just a bit to feel like you are "dressed for work" even when that work doesn't take you out of the house (says she who is still in uber comfie clothes).
Plan to, each day,  to look put together enough so that if the school calls because your kid just puked and you have to run to pick him up, you won't look like a hobo.  For these cold winter months it's easy.  Have a few long sweaters that can be worn with leggings.  Or a warm duster you can throw over a plain tee.  Put on some boots and a smear of lipstick and you can pass for someone who may appear to have showered this morning.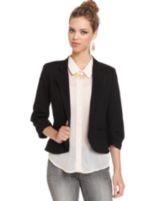 As the weather warms a lightweight jacket is key.  A jacket looks great with, and slightly dresses up, jeans.  Even with a t-shirt!  If you just do the minimum to have a solid color (unwrinkled) tee on with jeans, you can quickly look put together with a jacket, scarf or even both.  (jacket shown from macys.com)
One tip to be ready is to store your scarves on the hanger with the jacket it matches.  No, I don't do this, I'm just the idea lady.  But I do try to hang jackets next to tops that go well with them so that in a rush, I don't have to think much.  Just grab, dress and go.
What tips can you share for slightly upgraded at-home work attire?
Shop the look:Shop Women's Sales & Values at macys.com