Essie launched a new Luxeffects color and I'm such a fan. The new color, "stroke of brilliance" (blue) is quite brilliant actually!  I'm so excited that it was sent to me to sample.
Glitter is for little girls but confetti is good for all ages.  Luxeffects looks like tiny pieces of confetti in clear nail polish.  I was a skeptic but tried it out for the sake of being a guinea pig for you.  Use it over a solid color polish.  On it's own looks silly.  It's really fun and fabulous.
Indoors it's not such a WOW but out in the sunshine – I felt for just a minute like I was on the set of Twilight with that "vampire sparkling in the sunshine" thing going on.  But sans vampires of course.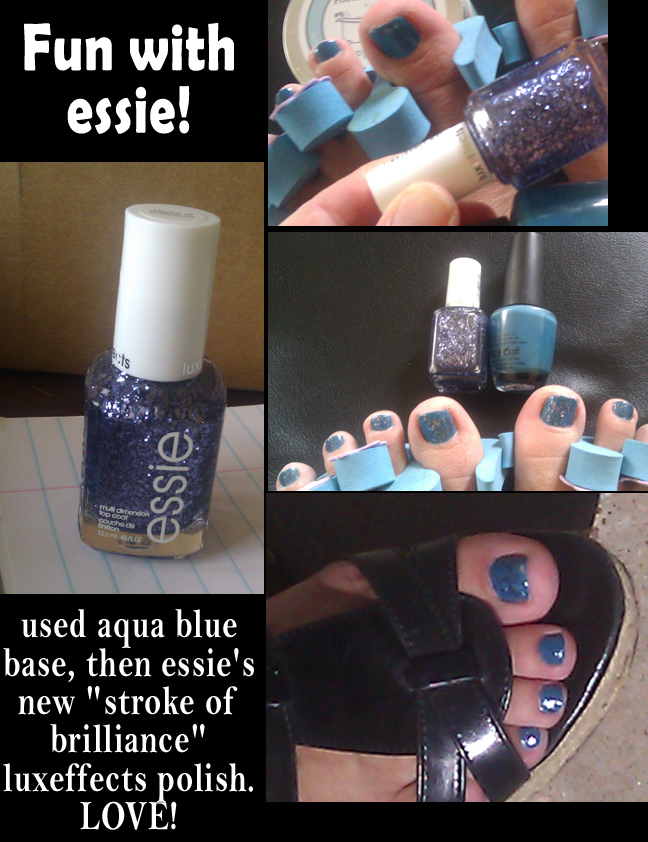 Definitely looking forward to getting another color of Luxeffects, A Cut Above.
Purchase at Beauty.com :
essie luxe effects polish, a cut above, .46 fl oz
  (sponsored link).
Get a bottle of Luxeffects for yoruself and show me a photo of what you come up with!