Even the Fonz couldn't be cool in this weather.  The Midwest heatwave is relentless so I've been looking for all things related to keeping cool this month.
August means back to school preparations are well under way.  Three growing piles of supplies at our house sit waiting for that first school bell as three growing boys clearly need new school clothes.  My most unfavorite type of shopping is upon us, where I have to convince that orange and green don't really go well together, that neon shoes will come out of your allowance rather than my money, and that no we are not coloring your hair in your choice of primary color like last year because at the time I had forgotten that school photos are also in August.
Now it's my turn to shop.
A quick and smell good way to beat the heat and, well, potential smelliness, try a mist product like this one I like, The Body Shop's  Spa Wisdom™ Morocco Orange Blossom Finishing Mist
.
A small bottle like this one at 2 ounces is perfect for your purse when you're out and about.  For my New York friends, no I don't think it's ok to mist everyone in the subway.
Keep cool by shopping from home with a bargain site like Beyond The Rack. Designer Brands At Exclusive Prices – Save Up To 70% Off Retail! Invitation Code: SUMMER2011
.  Look for colors and styles that you can carry into fall like this lavender top/dress you can wear later with leggings.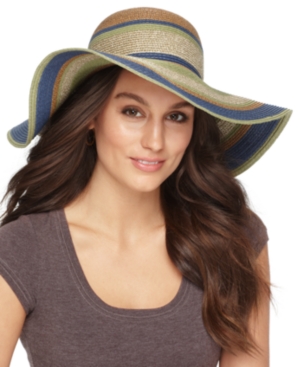 When the sun beats down protect your hair and skin with a fabulous floppy hat like this one from Macys.com.  Keeps you looking and feeling cool…nearly as cool as the Fonz, but smarter.