I'm not sure that any first lady has been so watched for her clothing selection than Michelle Obama. The fashion world waited on pins and needles to see whose gown she chose for the ball. That esteemed honor went to the talented young designer, Jason Wu. The one-shoulder gown was custom designed for the first lady.
I'd like to know what shoes she wore and her secret to surviving 10 inaugural balls last night!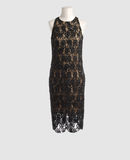 For the swearing in Obama wore former Anne Klein designer, Isabel Toledo's design. A beautiful ensemble with Swiss lace detailing and jeweled neckline. Wisely chosen as the citrus tones are a hot color for Spring.
Looking for a bit of lace for yourself? I found this Valentino Roma dress at Yoox.com on sale for $310.
At the Kids Inaugural: We Are the Future concert at the Verizon Center in D.C, Michelle wore J. Crew.
Earlier this week she wore Narciso Rodriguez.
The woman has more designer gowns than a movie star at this point. I will definitely be watching as our new first lady and style icon moves into her new position, and hopefully, her very large new closet.
Hey Jill (Biden)…we'll be watching you too.