Stuck in the rut of wearing all black? I know…it's so easy to do and so effortless. Not to mention you can sometimes get away with wearing the same black dress twice in one week with no one noticing.
Today I will assit you in your stealthy ways keeping your budget out of the red and your wardrobe looking different.
Requirement A number one? Make sure you at least wash before re-wearing!
Ok chameleon girl. Let's do it.
Surely everyone knows the secret of a scarf. Easy way to change up and dress up a look. Especially wearing one with jeans. this one will go well with your black ensemble but with a bit of color to boot.
Tolani Myst Scarf in Black/Blue

$60 at Revolve Clothing.
Trick #2. A vest. Over a light sweater or blouse, it changes your look and keeps you a tad warmer. Though I'd prefer a color, this inexpensive
Striped Tuxedo Vest
option from Charlotte Russe is doable, and only $18.99.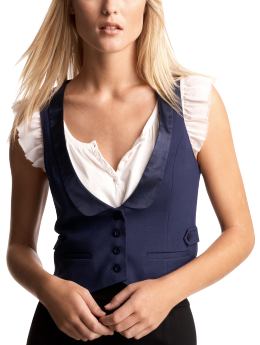 Women: Tuxedo vest – menswear blue

Or this more color version at Gap.com for $48.
Shake it up, change it up. Make it a point to pull 5 items out of your closet that you can wear more often by adding a simple accessory or extra layer.
Please email us if you find a buried treasure or turn something drab into gold!