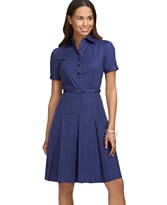 Everyone is mad for shirt dresses right now. They can be found at every price range, in every color, in nearly every apparel store. It's an easy piece to grab out of the closet and accessorize with ease. I grabbed a few off the net to show you examples of the range of possibility.
This Tahari stretch cotton shirtdress $138 Macy's, is available in black and cobalt. I don't care for the pleated skirt, but a lot of people like this recent trend reminiscent of the 50's. The small belt gives it a crisp finish.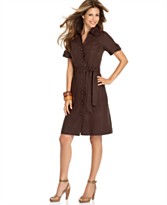 Macy's also sells this Style&Co. shirt dress. A bit more hip with it's long belt and button detail with patch pockets on the chest ($69). It makes a big difference in the look with the shoes you choose. Sass it up with a higher heel, possibly a more comfortable wedge for the work day.
At Target online I found a cheaper version of the shirt dress but it lacks the detail that make shirt dresses look put together and chic. The cap sleeve is nice, but it's missing the collar. It's leaning more toward the wrap-style. Still a comfortable piece at an affordable price, on sale for $29.99.
I'm pretty sure that I have a picture of my grandma in this dress. It just goes to show that the trends circle through time and resurface unexpectedly. Some come back to haunt us. I panicked when leggings came back. I'm still in therapy for what the 80's did to my wardrobe and tender teenage psyche. Dressing like grandma seems far less risky than dressing "like a virgin".