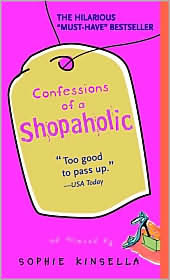 Fans of the Sophie Kinsella Shopaholic series are rejoicing as word spreads that a movie is being made. Shopping, Hollywood and NYC brought together for another fab movie!
Isla Fischer has been cast as Becky Bloomwood. P.J. Hogan (Peter Pan, My Best Friend's Wedding) will direct. Jerry Bruckheimer will produce.
Becky Bloomwood has a fab flat in London's hottest neighborhood, glamorous friends, and closet for all fashionistas to drool over. However, Becky is not exactly a good money manager. Actually, she doesn't manage it at all…she simply spends and spends.
The Shopaholic books are great summer reads. British author, Sophie Kinsella, definitely started a phenomenon. I'm excited to see the movie…if it ever comes out. No news was available on a release date, but it is filming now. The 46-story architectural marvel, the Hearst Tower, currently being transformed offices of fictitious publishing company Dante West. According to Fashion Week Daily, the ground floor windows will be dressed to resemble luxury retail boutiques, including Anna Sui, Alberta Ferretti, Catherine Malandrino and Valentino.
I wish I could be in NYC to see the madness and confusion that will cause!
Now if only may could get here more quickly and bring with it the fab four: Carrie, Miranda, Charlotte and Samantha.