The halter top is everywhere this Spring so be sure to grab one that is original and trendy at next week's Haute Market. Most of myy boutique friends are so fresh from market that they have everything underwraps and ready to reveal next week. So I grabbed a few photos from Macy's to give you some ideas of what to look for. I did manage to snag one great photo just now from Kansas City designers at Sophie & Gwendalynn.
Beautifully embellished with a small bow on the front, ties around the neck at the back. A beautiful shape to give you some curves and enhance the bust area. I love it!!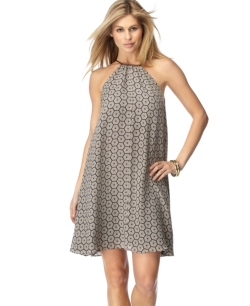 MICHAEL Michael Kors Geometric-Print Trapeze Halter Dress
$159.50. The dress ties at the back behind the neck and is about knee length. I'm not a huge fan of the trapeze-style because I think it's more flattering to show the waist. However, this particular piece is a good option for those not comfortable with a tight waist area.
Tommy Hilfiger has this bright Geometric-Print Halter Top
at Macys.com for $79.50. This is also a bit forgiving in the waist area, without being too full and maternity looking.
Watch tomorrow on FOX4 in Kansas City as I join Laura Thornquist to show more spring fashions and some complimenting accessories!