Let's face it…a good pair of jeans is hard to find. Your size, shape and what you ate right before you put them on, make such a difference in how the jeans fit you. We'll stay away from the jeans for now because I would have to be with you personally to help you buy the right pair. Just make sure you bring a friend honest enough to tell you whether your butt looks good in them or not. So you go find the right jeans and then pair it with some of these cute tops.
Dressing up jeans, Part I: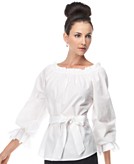 I'm loving the ruffles this Fall. I've never been a girly girl, but something about the romanticism of a well placed ruffle really turns me on. (O Oscar belted ruffle-trim blouse at Macy's $89)
Bringing in a bit more Fall coloring is this Gibson ruffle-front blouse with smocked waist and high neck, available at Dillards.com, $69. A sexy sleeveless and ready for day-to-night action.
Go black with this very feminine frock. Ruffles up the front with a dressy little flair to the sleeves, by Esprit at Dillards.com, $39.50. Also available in brown or red.
All of these tops are available online so you can shop in your pj's if you like. Plus they are local stores so if you don't love it, it's an easy return or exchange. Have a great day fashionista's!