My favorite part of the Emmys? The hair. The ladies of Hollywood may have been modeling some pretty frocks, but it's the hair that caught my eye.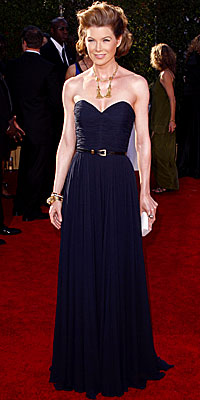 Ellen Pompeo was stunning with a surprise "do" that was so opposite to her usual mousey straight bore that are simply stared. I barely noticed the fabulous Michael Kors gown she was wearing! (photo: Mathew Imaging/FilmMagic)
Grey's Anatomy co-star, Katherine Heigl, won the Outstanding Supporting Actress in a Drama Series and looked beautiful in her white, Zac Posen gown. But it was definitely Ellen who stole the show with her stunning style.
Did you notice all the fabulous color? Red, raspberry and crimson show-stoppers. Thankfully it was just the men in black.
Speaking of the men…did Hollywood have a shortage of razors? Good grief guys. It's the Emmy's. Shave the shadows!