Staying cool in this heat is no small task but you can certainly do it in style with the fab fashions and cool summer dresses.
This sassy little number can be found at Frankie & Jules, often a vendor at the Haute Market shows. Owner, Julia Morgan, has an eye for what's hot and brings some of the best styles to us each season. Frankie & Jules has several dresses and cool summer tops to choose from.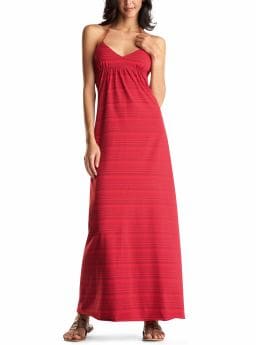 The Gap has several dresses on sale through their online store, sure to fit your style and budget. This jersey knit halter-style dress would be great for a backyard BBQ or dining out on the town.
Don't forget to wear a sassy pair of strappy sandals with a bit of a heel for that extra feminine kick. You're sure to turn a few heads!