Last night was the longest, loudest storm in the history of storms. I'm not sure I slept a wink. As I stumbled to the kitchen to make coffee, I successfully managed to start the coffee, however I didn't manage to put the pot back in the coffee maker. At this point in the morning I knew things were bad and that the rings under my eyes were probably making a guest appearance today which I could only turn into a positive by realizing that it would give me something great to blog about today.
Alas, we're out of cucumber. Really, that works. Just about anything cold will help reduce puffiness so feel free to get a wash cloth, soak it with the coldest water you can get out of the tap, roll it up and lay it over your eyes. Rest for a few minutes and you should look and feel a bit more refreshed quite soon.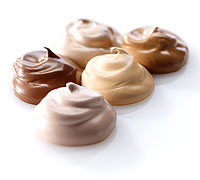 Concealer is definitely a must today. I rarely have to dig mine out but on the occasion that I must, I often use a Mary Kay brand concealer ($9.50 online).
It's handy, goes on smoothly for me and I found one in a good color match for my skin. Color matching is one of the most important things with concealer. If it's not a good match you could risk making matters worse.
Too Faced has a concealer with ingredients to help reduce puffiness. Herbal Eye Concealer is a loaded cocktail of ingredients that banishes bags, brightens the appearance of dark circles and reduces troublesome puffiness. Things like apple extract, parsley extract and other naturals help fight the raccoon eyes. $19.50 online.
Feel free to comment here or email me with your remedies for a sleepless night!