She's back. The wicked shoe whore took over my senses and sensibility yesterday and forced me to buy more shoes! She'll do almost anything to get a fab new pair of shoes. And with all the amazing new spring styles and colors, how is a girl to resist?
The bargain fashionista in me just cannot pass up double points week at DSW. And with the grip of the shoe whore so tight I find myself slipping my feet into every brightly colored shoe I can find. It's a tremendous rush and I can feel the inner struggle tugging me in both directions. practical voice: "you have a pair of black shoes with a rounded toe", fashionista voice:"but the one you have is matte finish and these are shiny!"
Must buy shiny black shoes.
I adore these patchwork-like shoes but the toe was too long and pointy for me. Could someone please go buy these shoes so I can adore from afar?
I browsed the clearance section where I'm always sure to find great deals. My last trip to the "aisles of discount & drooling" resulted in two pair at about $20-ish each!
Ths time I food the cutest pair of brown shoes with a chunky heel and a little bit of light blue trim, and a rounded toe. Perfection! Except I rarely wear anything brown. I did what any good gal pal would do. I called a friend to see if I could buy them for her.
On making by way toward the front to check out, I realize there is a small section I did not feast my eyes upon. Probably not much there…but let's have a look-see. After all, it's on the way to the handbag section.
And to what to my wandering eyes do appear? The most luscious little pump and it comes in pair!
What can I say? It was lust at first sight. The inner struggle was painful, but brief. I cannot resist anything BCBG.
Heck yeah I took these babies home! But not before I searched for a complimenting bag.
I suck in my breath as I see, hidden behind some cheap knock-off bags, something large and silver…The SAK! I grab it before any prowlers can snatch my find.
I safely manage my way out the door, positively beaming. I have a fabulous new set of accessories, hundreds of new DSW points and know a reward check will be coming my way soon. Victory is sweet (and slightly expensive).
It's a sunny day in Kansas City. I wonder how many of you will storm the doors of DSW today. Shop quick. Shop smart. Shop for color.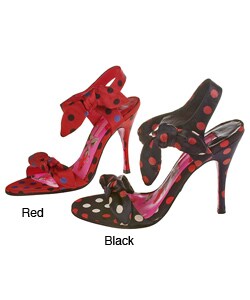 Can't make it out to the stores thanks to all the monsters being out of school for spring break? Check out some little treats I found at Overstock.com:
This colorful and happy polka-dot shoe by Betsey Johnson. The 'Lanica' strappy sandals feature bold polka dot print. Just $72.99 at Overstock.com, unfortunately only red is available in sizes 5.5 or 6.5 at the moment.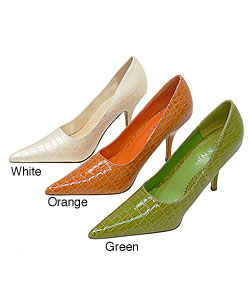 These colorful pumps don't look too comfortable to me and they only have white available, but the colors are fabulous and will at least give you an idea of the trends to look for.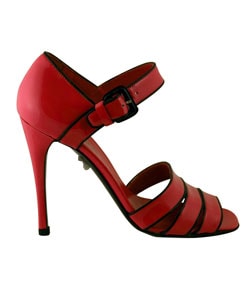 If you want a real bargain on fabulous designer shoes (and wear a size 8) these are definitely one's to lust. Stunning hot pink patent leather open-toe pumps with black piping. Authentic Prada sandals feature an open toe and a closed heel with an ankle strap. Was about $528, now $351.99. Yum yum.