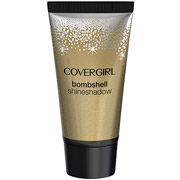 I don't know why I don't already have every color offered by CoverGirl in their bombshell shineshadow because I love it! It's a cream shadow. I received mine for free – so now that we've disclosed that I'll tell you more.
Put the tiniest dab of the cream on your finger or an eyeshadow brush with a small, firm fibers and dab it on. Give it a few minutes to dry. I do this first on the top, then apply my lower lid color. Next I take a similar shade of regular eye shadow on top to blend a bit. I don't know if this helps set it but it lasts all day! The rest of my makeup? Can't say that.
I have the copper fling color #325. It's perfect.
A shout out to makeup artist to the stars, Kirin Bhatty (@KirinBhatty), for sharing her expertise with us crazy gals at LuckyFABB. And a big thanks to CoverGirl for the wonderful goodies!
You can find this and other CoverGirl products at Walmart.com
for about $7.