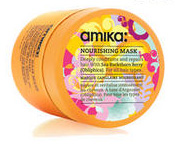 Just a quick reminder that the Beauty Brands liter sale is going on right now.  I'm heading in today to stock up on shampoo and conditioner for just $12.99 a liter because that is going to save me $32 off my favorite!!!
And I've been wanting to try the Amika brand ever since last summer when I met some of their reps at a cosmetics show and got a free sample.  The nourishing hair mask has GOT to be great for my sun dried hair…I hope.
Reminder your girl friends and tell them that Suburban Catwalk has more great news just like this.  Sign up for the newsletter today!