If you haven't yet stumbled upon YOOX.COM
, then be prepared to fall fast and hard. The sale prices are so yummy. Who cares if it's last season? Know one will know, right? They say we're about two years behind here in the Midwest, so you should at least look fashion forward for another season! Any justification to save 75% or so on designer apparel is fine by me.
Here are a few I've picked out for you.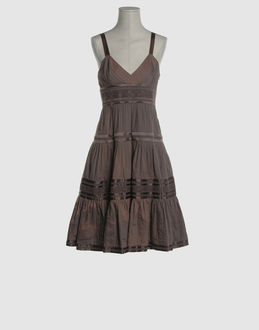 A favorite designers of many female celebs is Catherine Malandrino. This sweet and strappy 3/4 length dress in dark brown was $455, and now is just $159. Only size 4 is available.

The Mas Nada 3/4 length dress is only available in a size 6. From $359 down to $128 this satin-stretch number is a steal!

If I could ensure having a hot date, I think I'd order this gorgeous black dress by Diane Von Furstenberg. From $248 to $149, only size 2 available. Just a bit of a dip down the front, with a frilly little bit on the strap, makes this little black dress have a little more personality. Don't be surprised if it's sold out by the time you go looking for it. (wink, wink)
If you have ever wanted to own a Miu Miu piece, now is the time. Only size 8 available at YOOX.COM
. It's unlined crepe with a little frill on the side. 100% silk. $1095 marked down to just $274. Seriously…did they have the interns working too late one night resulting in a bad typo? Ouch. Grab this if you want designer gals in your closet.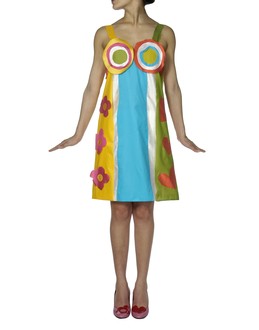 If you really want to show some personality, might I suggest an exclusive one-of-a-kind design? Agatha Ruiz de la Prada is best known for her eclectic personality and the passion that infuses every piece of her vast collection.
This colorful, 3/4 length dress will turn heads for sure.Each dress comes with its original sketch signed by Agatha Ruiz de La Prada.
Not on sale, but look at the $500 price tag as an investment in art. I adore the colors and think the bust-embellishments would bring a wandering eye to my chest for sure. Not something that happens often for me, I can assure you. The dress costs way less than a boob job and probably would garner even more attention. Could be the sort of attention that lands me in a padded room with no sharp objects…but it's not like that trip is far away anyway.

These are only a few of the dresses. Wait until you see the designer shoes at YOOX.COM
! My hubby is hovering. He must think I'm seriously considering the $1010 pair of Alexander McQueen shoes. They certainly are stunning.